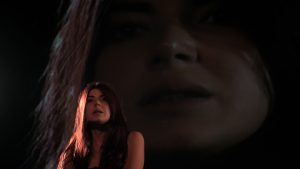 Before taking the stage, a group of young Syrian women acting in a work of documentary theatre must unravel the legacy of patriarchy in their upbringing – all while making their lives anew in Germany and coming into their own.
—
A casting call brings together nine young Syrian women, whose ages range between 20 and 27 years old, and who have recently settled in Germany. They were chosen among several others to perform for the first time on stage, in a contemporary adaptation of the Greek tragedy Iphigenia, by Euripides, in the vein of what is known as "documentary theatre".
Based on the weaving intersections between the destiny of Iphigenia and each of their own lived experience, the performance is created during intensive workshops and rehearsals with the director, Omar Abu Saada, playwright, Mohamad Al Attar, and each of these young women. Once on stage they will discover that the reason they left Syria wasn't only the war.
Observing the process of the performance's creation, the film follows the intimate experience of the young women in the cast, with a focus on six (Zeina, Alaa, Diana, Leila, Sajida and Bayan) as they project themselves into Iphigenia, plumbing their relationships to the fatherland they left behind and patriotism, their own father and patriarchy, the challenges of making their lives anew in Germany and the crucible of coming into their own.
Director Reem Al Ghazzi
Producer Ramzy Haddad & Reem Al Ghazzi
Executive Producer Rosie Garthwaite
Assistant director Zein Khuzam
DOP Samer zayyat
Camera Samer zayyat, Somar Bish & Reem Alghazzi
Sound Recording Samer zayyat & Reem Alghazzi
Editor Ghina Hachicho
Editing consultants Carine Doumit, Vartan Avakian, Macig Wolantowiski & Beata Wolantowiska
Assistant editor Dorota Anastazja, Rabie Nour Mohammed & Tarek Salem
English Subtitle Rima Moukarzel, Sasha Ayoub, Laila Aizouki & Ramzy Haddad
French Subtitle Dyala GHANAM
Sound Design & Re-recording Mixing Lama Sawaya
Dialog Editing Vanessa Kanaan
Foley Artist Marita Sbeih Foley Recording Patrick Chakar
Audio Postproduction DB-HAL Studios – Beirut
The theatre team:
Actress Alaa Nasser, Diana Kadah, Zina Al Abdalla Al kafri, Sajeda Altaia, Layla Shandi, Nour Bo Ghawi & Baian Jeratli
Director Omar Abusaada
Playwriter Mohammad Al Attar
Sécographe Bissane Al Charif
Actress trainer Reham Alkassar Bani al Marjeh
Light designer Christian Maith
Production coordinator Ameenah Sawwan
Assistant director Amer Okdeh
Assistant stage designer Maike Krych
Production companies Stories film & Mediadante
The film is supported by AFAC, AL MAWRED, Museum of Sztuki of Warsaw, Shubbak, British council.